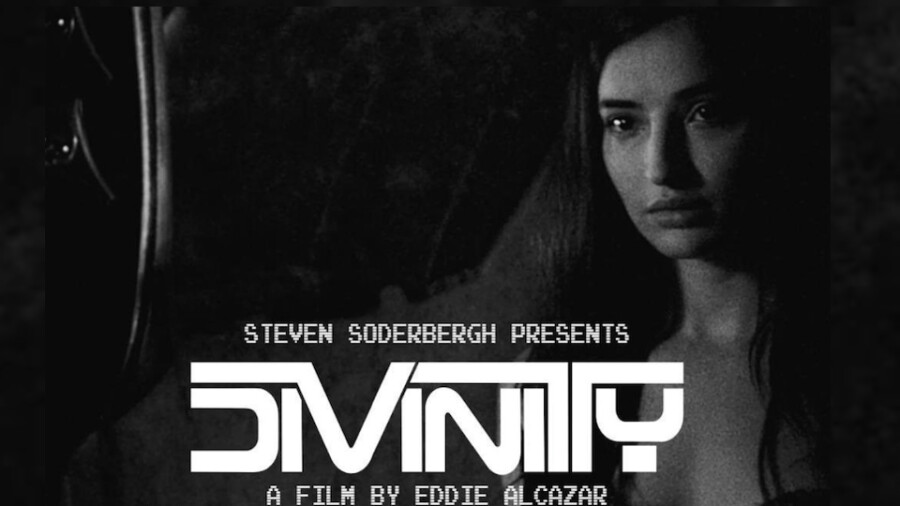 LOS ANGELES — The much anticipated new science fiction thriller "Divinity," co-starring Emily Willis in her mainstream feature debut, will finally premiere in theaters next month.
The film, written and directed by Eddie Alcazar and executive produced by acclaimed filmmaker Steven Soderbergh, also co-stars Scott Bakula, Stephen Dorff, Bella Thorne, Moises Arias, Jason Genao and Karrueche Tran.
The film had its world premiere at Sundance Film Festival in January and will be released theatrically in the U.S. on October 13, first in selected cities before expanding nationwide in November.
Willis spoke exclusively to XBIZ about her experience making "Divinity," which led her to her current path pursuing other mainstream acting projects.
"It's a very artistic movie," was Willis' first impression about the film. "Eddie is incredibly great at making amazing art. Every shot is an awe-inspiring vision."
"Divinity," she adds, "was my first feature film, which I shot last year, and it really was made me fall in love with both film and the sci-fi and horror genre. Eddie was the ideal person to work with for my debut — he has a very unique vision, and he really wants what he wants. That attitude is actually really cool to me. He's a real artist."
Willis shot her scenes with only an immediate awareness of the actions she was asked to perform, and only realize the scope of the plot once she saw it at Sundance, months after wrapping.
"I thought at my character was another character's wife when we shot my scenes," she says. "But when I saw the final edit, I realized there was much more to it. Now I know it was a very special character in the context of the movie, and she's someone who may not be what she seems. It added to the mystery of the whole experience."
One of the last scenes Willis shot for "Divinity" placed her alongside Thorne in a group of several other women who were being guided into different states of being.
"I got to do some great acting scenes," she enthuses. "I'm really, really happy about that. And obviously there was a sex scene, yeah. I originally auditioned because they wanted somebody that was open-minded in general, and open to being sexual on camera. I sent in my audition and the casting agent liked it immediately. Then I did an in person audition — and then we immediately starting shooting like, maybe a week after that!"
Willis says her scenes with Dorff, a Hollywood veteran from an early age, helped her be comfortable on her first major set.
"Stephen was very welcoming, and very professional, and kind," she reveals. "Nobody made me feel as if I didn't belong there because I was a porn star at the time. Everybody was very level with me, which was awesome."
A Mysterious Arthouse Thriller
After watching "Divinity" at Sundance and starting its promotion, Willis was delighted by the post-production work done between the 2022 shoot and the premiere.
"It's my first big film — and it's actually brilliant. I'm so happy that I was a part of it. It's definitely an 'arthouse film' and it could become a cult classic. It's edgy, and it's mysterious — somewhere between sci-fi and horror. It really is like a trip."
The official description of "Divinity" tells of "two mysterious brothers, who abduct a mogul during his quest for immortality, while a seductive woman helps them launch a journey of self-discovery."
"I don't know how much I'm allowed to say without giving too much away!" Willis laughs. "It takes place in an otherwordly space — we can't even say too much about where we shot it. There's a lot of chaos in it. Everybody in the film is on a quest for 'divinity,' which is this stuff that changes you so you can live forever and everyone's kind of fighting to figure out who is on divinity and how it all works."
As "Divinity" is getting ready to premiere, Willis continues pursuing her acting career, alongside developing a successful influencer clothing line, EmFatale.
Willis says she had always loved acting, but just didn't think that it was a concrete possibility as she was pursuing her adult career, which included a rare two-years-in-a-row win as XBIZ's Female Performer of the Year.
"Then I booked 'Divinity' and my dream came true — it was 100 percent the kind of work I love to do."
For more about "Divinity," visit the film's official website here.