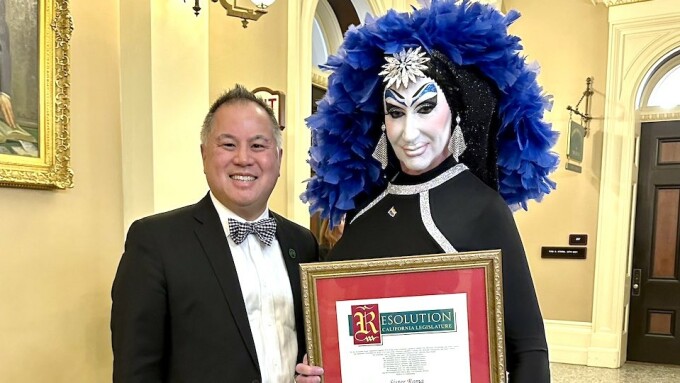 Sister Roma, a drag performer/activist and Art Director for Falcon/NakedSword, who is also a member of the Sisters of Perpetual Indulgence, was recognized today by the California legislature as part of a resolution designating June as "LGBTQ+ Pride Month."
The LGBTQ Caucus of the legislature extended an invitation to Roma, as well as several other notable individuals such as tennis player Billie Jean King, actor Harry Lit, and filmmaker Eugene Lee Yang, to participate in the festivities, according to The Advocate, a news source focused on LGBTQ issues.
Roma, who was invited by Sen. Scott Wiener, received a standing ovation for the work she and the Sisters of Perpetual Indulgence have done on behalf of the state and global LGBTQ+ community. Roma described her duties in the organization as "activist, fundraiser, public speaker, Master of Ceremonies and glamorous clown."
Roma's entry into the adult industry was facilitated by her closest companion, Michael Youens, who had been a Falcon employee for a long time and performed as drag artist Shanté.
"I became involved in the adult industry through my friendships with Chi Chi LaRue and Steven Scarborough," she shared with JC Adams from XBIZ in 2021. "Initially, I did freelance graphic work for them, but eventually Steven offered me the position of art director. Later on, John Rutherford recommended me to Tim Valenti as a co-host for a new online talk show about the adult industry, which led to the creation of 'The Tim and Roma Show.' Thanks to these long-lasting friendships and successful business partnerships, I have always felt welcomed in the adult industry. I take pride in my career and cherish the relationships I have built within this community."