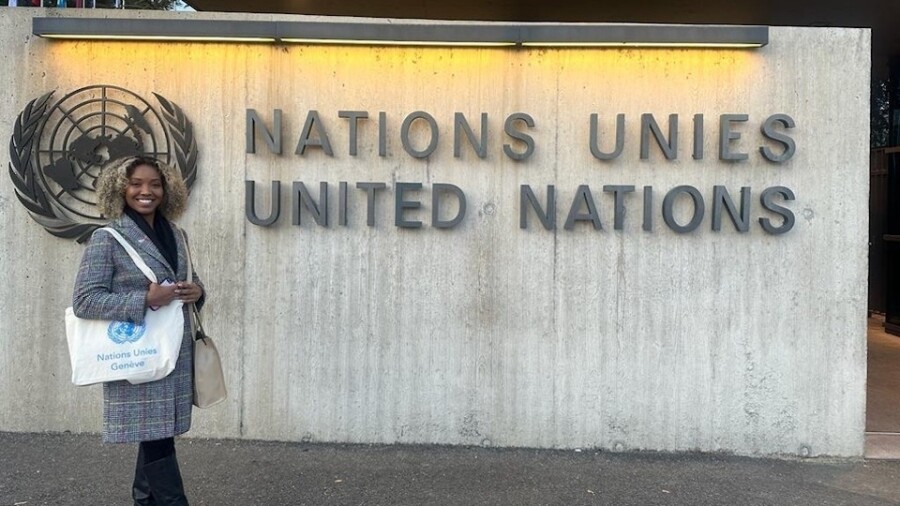 GENEVA, Switzerland — FSC Industry Relations Advocate and Decrim Sex Work CA founding member Lotus Lain has penned an essay about her recent trip to Geneva, Switzerland to advocate for sex worker rights before the United Nations Human Rights Committee.
Lain was invited to address the committee along with Cornell Law professor and former performer Lorelei Lee.
"My reason for being there was to offer testimony as a person with 'lived experience' in sex work to petition the U.N. Human Rights Committee to put pressure on the U.S. State Department to enact better policies to prevent sex trafficking in the U.S. and to end discrimination for sex workers," Lain writes in the piece, a diary of her experiences abroad last month, which is posted on the Free Speech Coalition website.
Lain and Lee also attended an event in which representatives from various advocacy groups petitioned the U.S. State Department on a variety of causes.
"Each speaker was given a strict two minutes to be able to speak their points to this group of State Department representatives," Lain reports. "Then the State Department representatives would rebuttal or answer with their responses as far as what is already in place and being put into action in the US to address our specific asks and concerns. Most were giving canned response answers."
Lain notes that it became evident to her that the reps were dragging out their responses, preventing those "at the back of the line that still had not had a chance to be seen or heard" from participating.
"It was driving me crazy once I started to kind of get the gist of how this thing was running," she adds.
"It was well after 5PM once Lorelei was finally able to speak," Lain reports. "Thankfully, they speak with such conviction, and it brings such attention to be speaking from a pink wheelchair that they weren't rushed off of the microphone. I recorded Lorelei's very brave and powerful statement on why US policies to address trafficking actually lead to vulnerability for trafficking and end up entrapping sex workers, causing so much harm that the policies can lead to death, jailing, loss of housing, loss of income, and many other negative outcomes for those of us in those communities. They were able to speak for 3.5 minutes uninterrupted. They received generous applause and you could see a developing of understanding in the people's minds that may not have been exposed to these realities before. Only one U.S. State Dept rep, Jesssica Marcella from Population Affairs, was courageous enough to speak to sex work and sex workers in her final statements."
The following day, Lain was to speak to the U.N. Special Procedures staff about how financial and housing discrimination makes sex workers more vulnerable to trafficking.
"I was to ask if the U.N. Committee could please hold the US State Department accountable for creating these obstacles to living," she writes.
The staff members, however, ran out of time and left before they could get to Lain's presentation.
"I do not understand why those UN Special Procedures Staff Members felt that their next meeting was more important than staying and waiting and listening to the voices of less than ten more people that wanted to talk, that flew halfway across the world to be heard in person," she writes. "This injustice is not just on the U.N. Special Procedures Staff, their procedures and their lack of time. It also lands on us in this entire ACLU Civil Society Task Force Group. We promised each other solidarity. We promised each other to hold space for each other. We promised each other that each other's issues were equal to one another. Supposedly that's the whole premise of the Human Rights Committee to begin with! It states that each human life is as important as the other. Which means that each human's issue is as important as the other human's rights issue. Which means that their issue on Guantanamo Bay Detainees is not more important than our issue on trafficking, housing and banking discrimination towards sex workers and trafficking survivors."
The following day, Lain and her colleagues managed to have informal face-to-face conversations with committee members.
Those conversations, she wrote, "were what I was here for and what really made a difference in this trip. Being able to identify and interact with the people that are already supportive of sex workers rights and learning how we can work together to affect change in this global fight."
To read Lotus Lain's "My Fight for Decrim at the UN," visit FreeSpeechCoalition.com.