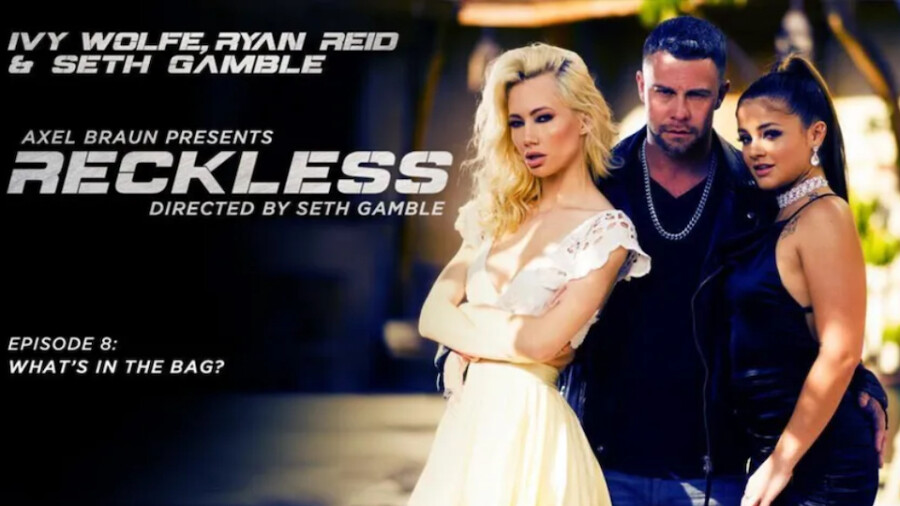 LOS ANGELES — Wicked Pictures has released the concluding episode of Seth Gamble's "Reckless," titled "What's in the Bag."
The eight-episode series was written and directed by twice-crowned and reigning XBIZ Male Performer of the Year Gamble.
The final episode, starring Gamble, Ivy Wolfe and Ryan Reid, resolves the fate of racing enthusiast and tech virtuoso Silas Knight, portrayed by the director himself in his first lead performance for a self-penned and -directed feature.
The plot explores the complex relationships between Knight, wife Harlow (Wolfe) and enigmatic CPA Scarlet Page (Reid).
"Scarlet is no ordinary numbers guru," the synopsis reveals. "She embodies the age-old adage, 'She who holds the money holds the secrets.' Skillfully manipulating her clients into believing in her benevolence, Scarlet's true intentions remain veiled in mystery, aligning her with the intriguing antiheroes and femme fatales that populate Silas' shadowy realm."
"Reckless" also features producer Axel Braun in a non-sex role, as Italian mob boss Dino Moretti. Braun called the project "a labor of love for everybody involved."
"Producing this movie was a privilege, and being able to act alongside Seth was a thrill," Braun commented. "If anybody ever told you that filmmaking is a joyous experience, don't believe them. It's blood, sweat and tears. It's stress, anger, fear and exhaustion, especially when you are as passionate and emotionally connected as I was, and as Seth is. But when it's all done and the day comes when your project is finally out, the reward is absolutely glorious. Today is that day: welcome to the Seth Gamble era."
Gamble praised Wolfe's versatility, hailing her for delivering powerful performances in gonzo movies as well as blockbuster features.
"As 'Reckless' reveals, Ivy can also sing," Gamble added. "She provided masterful vocals in a key sequence of the shoot and shocked the cast and crew by hitting difficult high notes with ease."
Gamble also commended Reid, whose performance he described as "entirely authentic, a blend of exhibitionism and guarded secrecy."
"The intimacy she shared in her sex scene with Ivy and me added a major layer of intensity to the movie's final act," he said.
Finally, Gamble expressed his gratitude to his large ensemble cast.
"From the charm and skill of David Lee, Nathan Bronson, Tommy Pistol and Mick Blue, to the beauty, talent and charisma of Ivy Wolfe, Ryan Reid, Kenna James, Nicole Doshi and Kenzie Anne," he enthused, "each performer made bold choices and remained true to them."
"What's in the Bag" premieres today exclusively on Wicked.com.