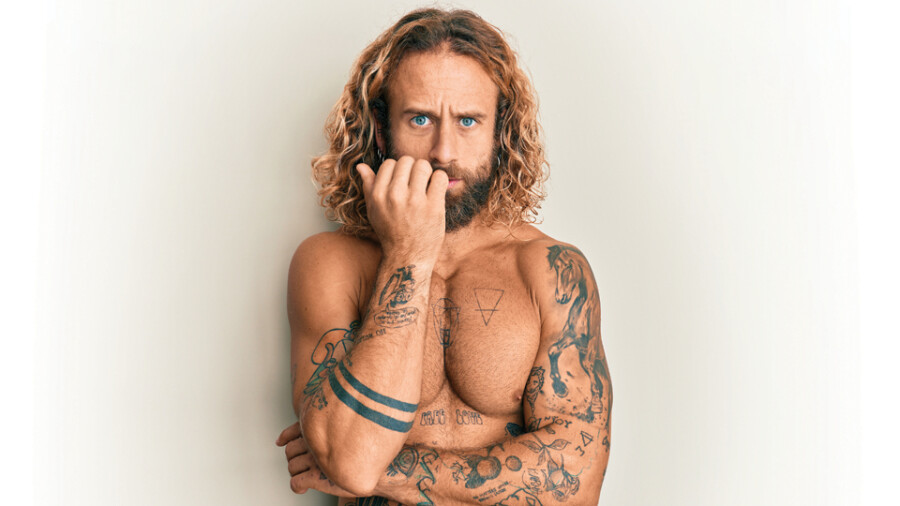 Battling insecurity is something that most of us are very familiar with. Whether our insecurities are physical, emotional or mental, their impact can have a ripple effect across our daily lives, leading to self-doubt, anxiety and a host of other negative emotions. As a content creator, your work requires a lot of showing and sharing yourself, which can be especially difficult when insecurity hits. Let's take a look at how various insecurities can be a challenge and find solutions to combat them.
It's All About Your Looks
How we respond to our insecurities can make the difference between having a good day or a bad day.
Physical insecurities are extremely common, particularly in our industry where your looks are part of the "product" on display. From weight gain or loss and skin breakouts to bad hair days or a poorly placed scratch from your normally sweet cat, these insecurities can significantly impact self-confidence and self-esteem. It's important to remember that physical appearance does not define a person's worth. You are more than your looks, though the intense scrutiny on social media and the daily requirements of content creation can make it hard to remember that.
Where Is My Mind?
Mental and emotional insecurities are just as challenging as physical insecurities. These types of insecurities are often rooted in past experiences or negative self-talk. They can manifest as feelings of worthlessness or a lack of self-confidence. It's important to recognize these insecurities and address them in a healthy way, such as through therapy or self-reflection exercises. Remember that healing is a process and it's okay to seek help when needed, whether through medical professionals or services specific to our industry, like Pineapple Support.
Feeling uncreative can also contribute to insecurities. When we feel like we're not producing anything worthwhile, it can lead to feelings of inadequacy and self-doubt. It's hard to come up with fresh ideas on a regular basis, to avoid shooting the same sexting content or solo content over and over. Nobody wants to feel like they are living the same day over and over, like "Groundhog Day."
Rise to the Challenge
How we respond to our insecurities can make the difference between having a good day or a bad day, so let's go over some different ways that you can turn that frown upside down, even if just temporarily! Believe me, I know some days you just want to wallow in it, but you can only do that for so long. With a little bit of effort, it's possible to overcome physical and mental insecurities and embrace a confident and positive outlook toward life.
1. Share the Struggle With Friends or Fans
Sharing your insecurities with trusted friends or supportive fans can help alleviate feeling alone and isolated. By opening up about your struggles, you may find that others can relate and share similar experiences. This can help create a safe and supportive community where you feel heard and understood, and provide an opportunity to receive helpful feedback and advice. Something as simple as a tweet saying, "Been feeling a little blah lately, who can relate?" can be enough. Remember, it takes courage to be vulnerable, but the rewards can be significant.
2. Change Your Look
One way to combat insecurities related to looks is to change your appearance. It can be as simple as getting a new haircut or trying out a new style of clothing. Experimenting with makeup or trying out new skin care products can also make a difference. Changing your look can give you a fresh perspective on yourself and boost your confidence. Just remember that changing your look should be done for yourself, not for others, so make sure you're not changing things up in hopes of somehow controlling what others think of you — that's not something we can do. Choose a new style that makes you feel comfortable and confident.
3. Seek Affirmation
Some of you may remember Stuart Smalley and his catchphrase, "I'm good enough, I'm smart enough and doggone it, people like me!" Positive affirmations like this may sound corny at first, but they can help reinforce your belief in yourself. Find a phrase that resonates with you; something as simple as "I am beautiful just the way I am" or even "I'm really good at making coffee" can become a mantra to get you through a tough day. Work affirmations into your routine to pump yourself up when you need a little extra boost.
4. Find Inspiration in Different Places
When the well of creativity feels dry, seek inspiration from various sources such as podcasts, movies and people-watching. Listening to motivational podcasts and watching uplifting films can boost your confidence and provide you with a new perspective on challenges. People-watching can also be a great way to gain inspiration as you observe how others interact with the world around them. Take some time to explore different sources of inspiration. You can also take a break and try doing something different to stimulate your creative juices. Try something new such as painting, drawing, listening to music or getting out in nature. Doing this can help you generate new ideas and feel more confident in your abilities.
Battling insecurities, especially those related to physical appearance, can be very challenging. No one is immune. It's important to recognize that you're not alone in these experiences and that you can overcome them. Remember: you are unique, and your flaws are part of what makes you beautiful in your way. Focus on your strengths, embrace your imperfections, work toward becoming a confident individual — and most of all, be kind to yourself.
Megan Stokes is co-founder of NMG Management, a content distribution and management firm. As a veteran of the adult industry, she enjoys sharing the knowledge and data she has collected over time with those who seek her help.